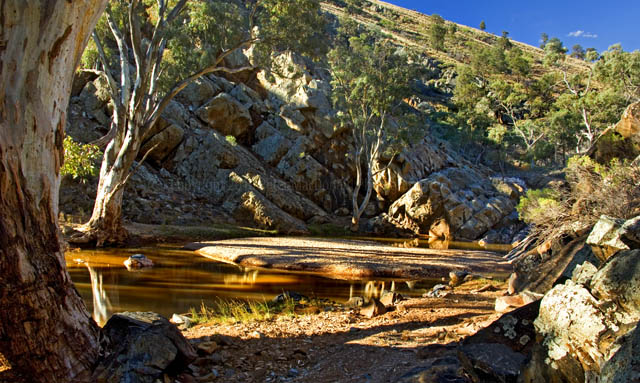 Just Add Water and a Touch of Tolkien
Posted by webmaster
On July 24, 2009
2 Comments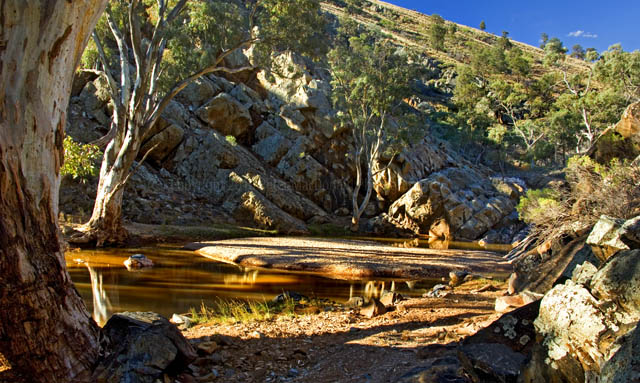 This waterhole speaks for itself – 'beautiful', "peaceful", "idyllic'. All of those things – but how about "Enchanted" too.
When I find something as beautiful as this to photograph I don't rush things.
It's on the Worumba sheep station about 25 kilometres east of the town of Hawker in the Flinders Ranges.
I can vouch for the Shearers Quarters which are a great place to stay.
A visitor from Liverpool in Britain was looking though my work to print and take home with her and she selected this photo.
When I picked up the large A1 size print for delivery , the printer, David Hobbs who does all my work, asked me who the person was in the photograph. I had no idea what he was talking about as I'd been at the waterhole all afternoon and had seen nobody.
"Come and have a look at this", he said.
You can't see it in the photograph at this size, but when printed large there appears to be a man standing in the picture wearing a blue hooded robe and carrying a long stick.
A trick of the afternoon light I would say.
But when I questioned the owners of Worumba, they had no hesitation in suggesting it was Old George, a station manager who worked there years ago and stayed in touch until he died.
Apparently Old George is seen around the station from time to time.