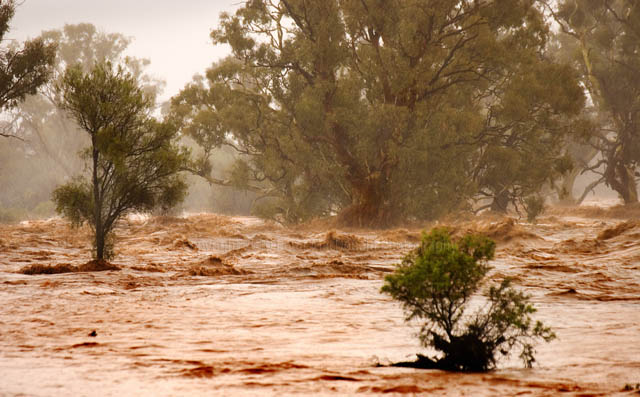 Flood, Havoc and History
Posted by webmaster
On August 13, 2009
1 Comments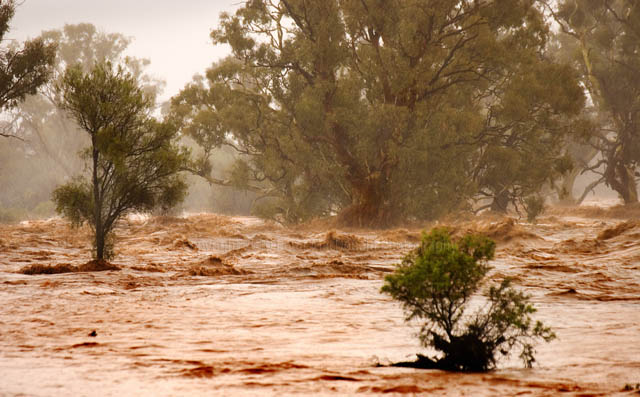 From time to time I'm asked "what's it like when the dry creek beds in the Outback are in full flood?" I was asked this again last week, prompted by this photo in my current "Just Add Water" exhibition.
It's called "Sea of Destruction" and to answer the question I've put together some pictures that illustrate what happens on those not too frequent occasions.
In this photograph the depth of the water is eight metres with waves at times as high as 1.8 metres.
I was able to gauge this afterwards by the scour marks on the trunks of the trees where debris had smashed into them.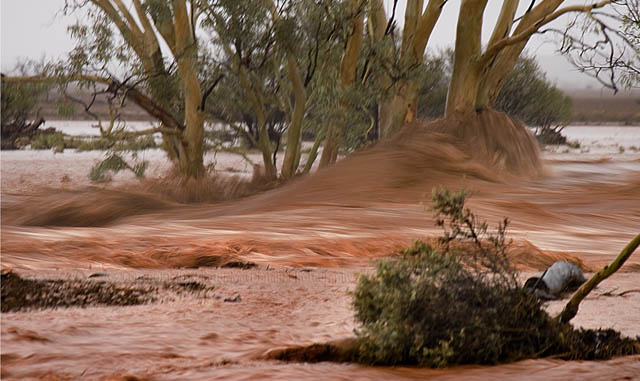 It was a muddy sea moving at express train  speed, propelling massive tree trunks, sweeping everything in its path. Twenty four hours later it was a gently flowing stream.
Thunderstorms and strange weather patterns often contribute to outback floods. You'll hear news of travelers stranded in some remote town or see pictures from the air that show a sea of water or reports of food drops to isolated homesteads.
However what is not often understood is the full force of the water when it's at its most powerful.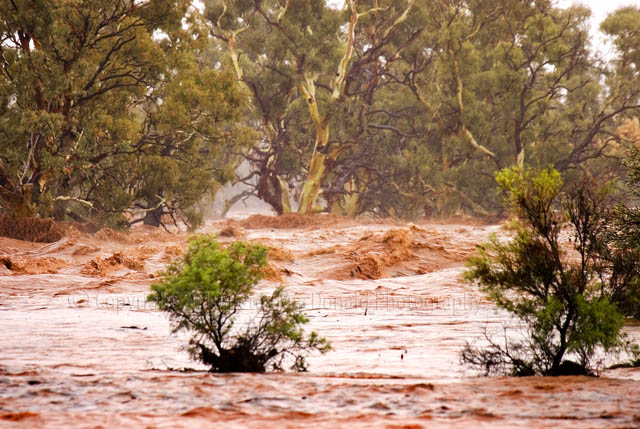 This is the Wirreanda Creek south of Hawker in the Flinders Ranges. Scenes like these are common when things get "a little damp" right around the country.
Floods can be quite localised like this particular one, the worst in living memory for the area. To watch giant gum trees many decades old get swept away is very frightening.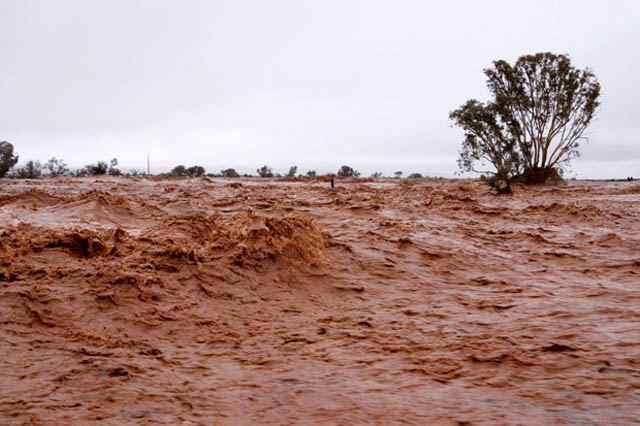 At the time it seemed like a whole ocean surrounded the people caught up in it. Stock and wildlife which couldn't make it to high ground quickly enough weren't so lucky.
Floods can occur almost any time. In northern and central Australia they are often caused by summer rains from passing cyclones. Further south, winter and spring can be the danger times. This one was a summer flood and fortunately no one lost their lives this time . There are gravestones around the countryside that tell more tragic stories from different times.
"The Sentimental Bloke" has been caught in a few floods. One at Ross River Homestead in the Northern Territory lasted eight days and there've been several in the Flinders Ranges but nothing quite so up closed and personal as this one.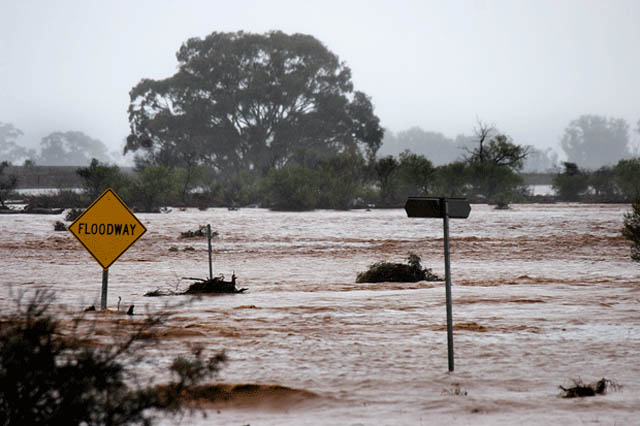 I'll be posting some more flood pictures over the next two nights as I have access to broadband for a change. Without it, posting such a large number of photos in one sequence is not possible.