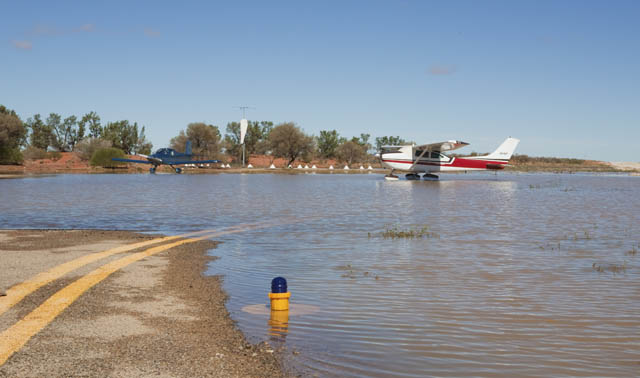 Oceans in the Desert and Other Strange Happenings
Posted by webmaster
On April 13, 2010
2 Comments
Some things that happen Outback are few and far between. Those things are not to be missed.
At the moment a once-in-a-decade (or even longer) phenomenon is occurring out there. It's water – more than can be imagined and it's turning harsh, dry deserts into the Garden of Eden.
Over the last few days I've taken a group of people to see the waters in Lake Eyre and the Coongie Lake system in the northern part of South Australia.
First stop Olympic Dam where we met up with two light aircraft for the rest of the journey which was scheduled to take in the waypoints of Innamincka, Birdsville and William Creek.
As we land at Olympic Dam , the remnants of floodwaters from unexpected thunderstorm which dumped rain over a widespread area are clearly visible.
The township of Roxby Downs and the nearby giant BHP mine at Olympic Dam received 86 millimetres or just over three inches of rain overnight , 24 hours before we arrived.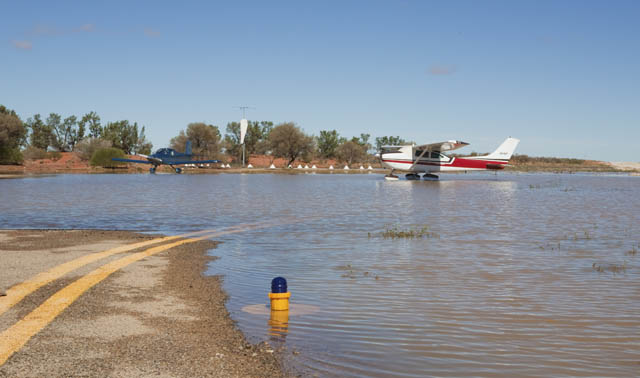 This was the scene at Roxby but the storms meant no possible landing at Innamincka which had already been cut off by road for many weeks now and is likely to be for weeks to come.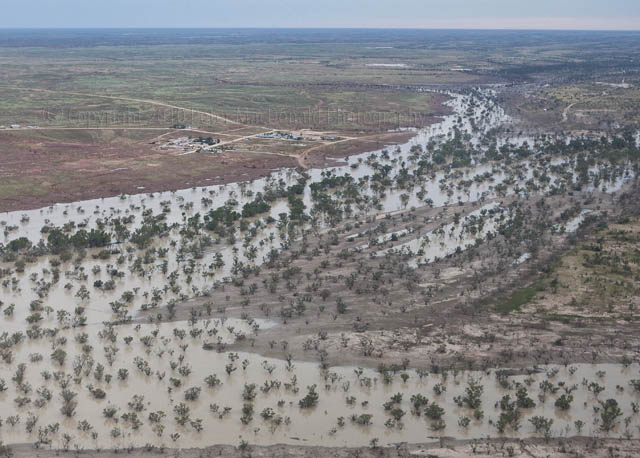 The Cooper Creek which passes just a hundred metres or so from the town is swollen with waters that have come down from the Channel Country in Queensland.
These waters are filling the nearby Coongie Lakes – Australia's largest fresh water lake system – a rare and spectacular sight.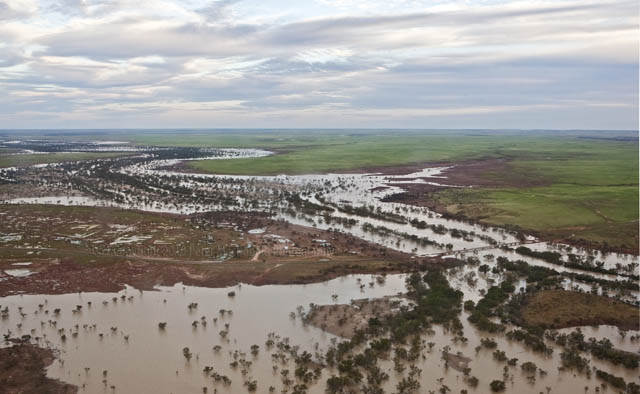 Fifty kilometres upstream and across the border into Queensland, the Nappa Merrie Causeway is cut by the flood waters which means long isolation for many cattle stations and mining sites.
'
It's hard to image that this is the Strzelecki Desert. The lush green colour that now covers the plains for many kilometres is something more akin to a prime Victorian grazing pastures.
I'm just beginning to process some of the images I took on this flying tour and over the next few weeks I'm planning to post lots more as well as provide information and links on how best to see the waters.