Fossil Rock
Posted by Peter MacDonald
On October 30, 2011
0 Comments
Q: What do Parachilna, Flinders Ranges town, population 2, and 70s and 80s British rock legend Leo Sayer have in common?
A: The staging of a great rock concert.
Yep, believe it or not it was Saturday night rock complete with full lighting and sound stage, four piece band and almost 500 people to watch the diminutive rocker turn on a really entertaining performance.
Although there were plenty of 'locals' , people came from over 500 kilometres away in cars, planes and even a helicopter to attend the concert staged by the Prairie Hotel.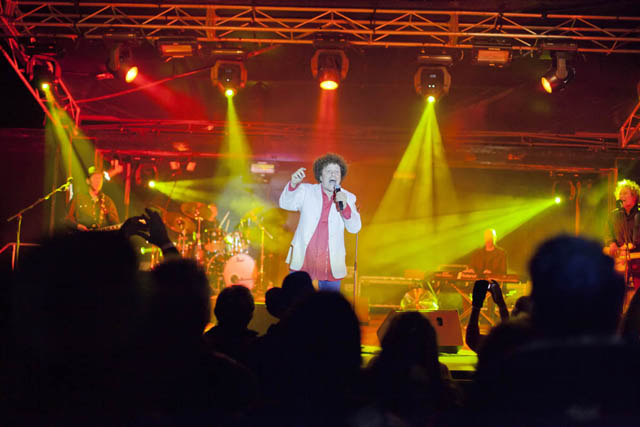 The show, called Fossils Rock 2011 included a lot of the songs he made famous like 'One Man Band", 'You make me Feel Like Dancing" and 'When I Need You".
Leo, now lives in Sydney and became an Australian citizen a couple of years ago. While he's in his early 60s, the 'Fossil" reference was not about him.
The night was organised by the Prairie Hotel to raise funds for an interpretive area in the town to highlight the Ediacaran fossils that have been discovered close by.
The Ediacaran plant and animal fossils have been dated between 570 and 540 millions years ago, the oldest known life on earth..
As you might image the Sentimental Bloke doesn't get many opportunities to photograph live concerts so there was some uncharted waters to navigate here.
I often get requests for the technical information on a lot of my work and in this case it was all shot with a Canon 5D Mk 2 with a 50mm f1.2 prime lens – very good for low light conditions.
All were shot at ISO 1600. The first shot f1.4 @ 1/320 sec. The other three were taken at f1.8 @ 1/250th sec.
A few more pictures from the concert including local artists, John O'Day from Orrorroo, Jasmine Reschke from nearby Blinman and Harry Hookey from Gippsland in Victoria have been posted in the Overflow.