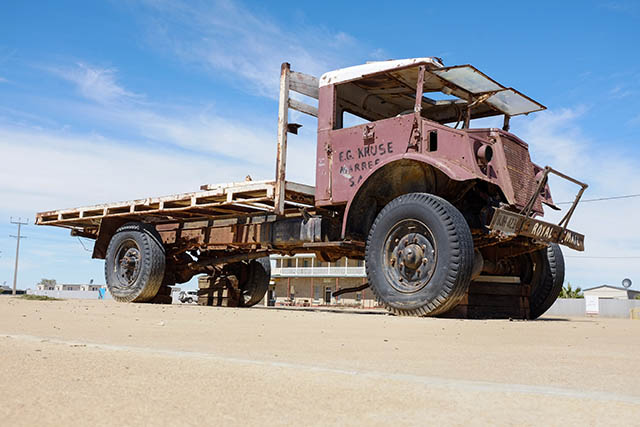 Maree
Posted by Peter MacDonald
On April 8, 2014
0 Comments
I have been through Maree many times on my way to somewhere.
It was the same a couple of weeks ago when I passed through Marree to do a feature for the upcoming R M Wiliams "Best of Outback Stations" magazine.
Maree is the beginning ( or the end ) of  the Oodnadatta and Birdsville Tracks – both legendary Outback stock routes and it was up the Birdsville Track this time.
Maree isn't quite the bustling town it was when it was a cattle railhead …. or more recently when thousands of tourists flocked north to see flooded Lake Eyre.
It must have been quite a sight  seeing Tom Kruze pull out of town at the start of his many epic journey's up the Birdsville track.
A movie of his fortnightly journey called "Back of Beyond" was filmed back in the early 1950s. It is still for sale and an excerpt from the movie can be seen by clicking on the highlighted title.
In the back streets of Marree, the skeletons of less famous vehicles can be found. These too most likely had plenty of tales  to tell.
The sign on the door of this old wreck gives a clue to its working history. Allandale Station is up the Oodnadatta Track at the top of Lake Eyre . It would have spend its life carting supplies along the rocky track.
What was even more intriguing was its current location – right next to the bones of an old petrol bowser.
It is as though the old Chevrolet rolled into the garage and the two died together
I am sure there was more to this story but time wasn't on my side this time.