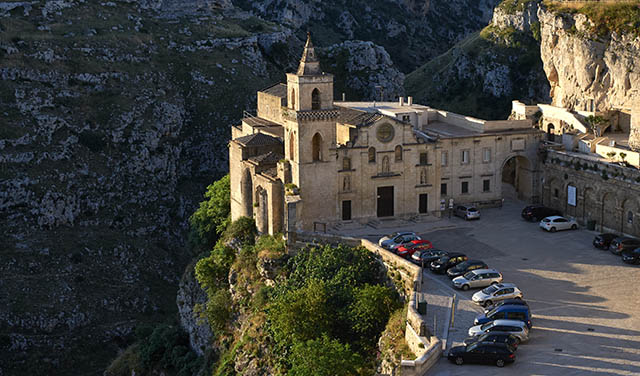 Power In a Picture
Posted by Peter MacDonald
On November 7, 2013
2 Comments
This picture has a certain power, not just because of the dramatic location  but because of the contrast between the church and the background.
The church of San Pietro Caveoso perches right on the lip of a  ravine in the old part of Matera, a city and a province in southern Italy.
The first rays of the morning sun light the church but not the canyon, creating the dramatic effect.
It's a good reason to be up and about a little before dawn or again as dusk falls, because it is then you are most likely to find good examples of contrast within scenes.
Power of a different kind, this time it is the design of an Italian architect Nicola Salvi and sculptor  Pietro Bracci.
The work is part of the world famous Fontana di Trevi in Rome.
I would like a dollar fore every picture that has been taken of the fountain over the Italian summer  – mostly of the whole fountain which is 26 metres high and about 50 metres wide.
However the real power surrounds the central figure, the Roman god Oceanus, riding a shell chariot. Picking the right angle and aspect to capture that power was the job at hand.
Sometimes it is not the big picture that makes the best photograph but a smaller section which may heighten power and drama. This applies to almost any scene you might stand in front of, particularly when it is a well-photographed subject or landmark.
A night time shot of the church from a different angle can be seen here